Tide turning on water birth ban as Drogheda becomes third hospital to reinstate option
Water births are used for pain relief during labour and birth across the world.

WATER BIRTHS ARE gradually making a comeback in Ireland, after long-term suspensions meant they were only used in labour and not birth.
This summer, our Lady of Lourdes Hospital, Drogheda, became the third hospital to re-introduce the option after their use was halted over a decade ago.
Water births are used for alternative pain relief across the world. In fact, a reduction in epidural rate from 47% to 35% in the National Maternity Hospital in 2022 was put down to "the widening of the inclusion criteria for the hydrotherapy pool".
Research shows that giving birth in this way is as safe as 'land birth' for normal risk pregnancies, according to information provided to women by the Coombe.
Noteworthy, the crowdfunded community-led investigative platform from The Journal, supports independent and impactful public interest journalism. Support our work here>>
The suspension in hospitals followed the death of a baby in a hospital birthing pool in the late 2000s.
Currently, just 11 of the 19 maternity units have labouring pools and three of these now allow water births.
The HSE has also "temporarily paused" water births in the public home birth service since 2020. It stated this was following "a small number of incidents". 
An inquest concluded earlier this year into the death of a baby delivered in a birthing pool. At this, the coroner was informed that the HSE had suspended its home birth service as a result of the death.
The baby died from an undetected Group Strep B (GSB) infection. Evidence was heard that issues relating to the birthing pool were unlikely to have been a contributory factor. 
Pathologist Dr Noel McEntagart also said it was unlikely that the infection had been contracted while in the birthing pool, and there was also no evidence that the partial delivery of the baby under water had resulted in any lack of oxygen.
During the course of our in-depth BIRTH PLACE investigation – being published across this week – there were a number of indicators that the reintroduction of water births in Drogheda was a sign that the tide was changing on this birth option at a national level.
In fact, a HSE spokesperson told Noteworthy that the National Women and Infants Health Programme (NWIHP) is planning "that whenever feasible from an infrastructure perspective", all units "would have the option of labouring and ultimately birthing in water".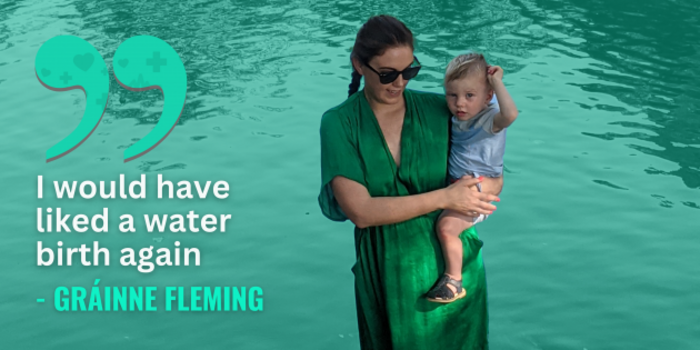 'Everybody is delighted'
"We work really well with the consultants here", explained Fiona Molony, manager of the midwifery-led unit in Drogheda. Over the course of a year, the team also "sat down with women to see what they wanted".
Guidelines were put together following a review of what was in place in Wexford General Hospital and the Coombe – the other two units offering water births – as well as by examining international guidelines and research.
Staff also went to Royal Jubilee Maternity Hospital in Belfast for training.
Five have taken place since May, said Gráinne Milne, Louth Hospitals Director of Midwifery. "And in the five circumstances… everybody is delighted with the fact that they've been able to have a water birth."
Women are allowed to labour, but not give birth, in Cork University Maternity Hospital. Technically, national guidance is still against birthing in water, professor Richard Greene, director of the National Perinatal Epidemiology Centre (NPEC) and professor of obstetrics at UCC told Noteworthy.
The international evidence would support it. We probably need a review of the guidelines with respect to international evidence.
Ban still in place for home births
While water births may be making somewhat of a comeback in a hospital setting, there's still a ban against them for publicly funded home births.
Gráinne Fleming said she had a water birth for her first birth through the HSE scheme but was denied one this time last year due to an ongoing ban.
Sarah Culleton from Waterford laboured in the pool at home during the birth of her third son a year ago. Her first two sons were born in hospital. "You have to sign up that you can't birth in the pool," she said but overall she had a positive experience.
"It was lovely to have the warm water after him and me afterwards, and to birth the placenta in the pool. Your family is there and you're in the comfort of your own home. And you're just so much more relaxed."
Because Stephanie Kaneswaran opted for private home births, instead of through the HSE scheme, she had a water birth in Limerick last autumn. She felt that people are relearning more natural methods of birth, such as moving around and different positions – practices that were much more common in the past.
Aisling Dixon, chairperson of the Community Midwives Association, said that it is "not appropriate to stop services". She said incidents do need to be investigated but stopping "affects the trust in the service".
She said that they have been advised by NWIHP that water births will be reinstated but are "still waiting for the final decision on that". She said it was stopped very quickly and hoped it would be reinstated with "equal swiftness", but that "hasn't happened yet".
"There's a high level of scrutiny of the home birth service", said Dixon, who added that she welcomed that as they want the service to be "the best and safest" it can be. "But we also want fairness, in that the same level of scrutiny and publicity is extended to adverse outcomes in a hospital setting."
When asked why water births in the community remain suspended and when they will be re-introduced, a HSE spokesperson said that "the NWIHP continues to engage with relevant stakeholders and professional bodies".
"No further update can be provided at this juncture."
—
Read more articles in this series >>

Why does the Irish health service offer so little choice for expectant mothers?

By Maria Delaney of Noteworthy
Noteworthy is the crowdfunded investigative journalism platform from The Journal. This investigation was proposed and funded by our readers alongside direct support from our investigative fund.
What's next? We also want to uncover how a broken system is detrimentally impacting women's health. Help fund this work >>