Rural home births may be restricted as HSE stands by 30-minute distance limit
Noteworthy reveals this restriction was raised as 'non-negotiable' at a HSE meeting in March despite protestors feeling the issue was resolved last year.

WOMEN IN RURAL Ireland who want to have a home birth may face restrictions as the HSE still wants them to live no further than a 30-minute 'blue light' ambulance distance from a maternity unit.
The HSE has confirmed to Noteworthy that the controversial guidance "remains in place" despite protests against it last year – and an inconsistent take-up of the advice by some hospital groups.
Last summer, key leaders within the HSE recommended that "all women accessing the National HSE Home Birth Service would reside 30 minutes or less blue light distance from their nearest maternity service" – that is the distance ambulances can travel with their siren or 'blue light' on.
However, when pushed on lack of implementation of this guidance, a HSE spokesperson said that it is "it is guidance, not a rule" so it remains unclear whether the 30-minute 'blue light' guidance is being followed by any maternity unit or if policies will be changed.
Noteworthy asked each hospital group for restrictions in place, including in relation to distance, but most redirected our query to the HSE.
The Community Midwives Association and a number of campaign groups that we spoke to raised the lack of evidence used to come up with the 30-minute distance.
"There's no evidence nationally or internationally that recommends a certain distance from the woman to the hospital," according to Aisling Dixon, chairperson of the Community Midwives Association.
Noteworthy, the crowdfunded community-led investigative platform from The Journal, supports independent and impactful public interest journalism. Support our work here>>
Though obstetrics professor Richard Greene isn't involved in home birth policy, as director of the National Perinatal Epidemiology Centre (NPEC) he has overseen a number of audits of the home birth service.
The results show "home births are quite safe in Ireland so there's no reason" for the service to be discontinued. He added that the NPEC hasn't "identified any issues with regard to distance".
A geospatial analysis, obtained by Noteworthy through Freedom of Information (FOI) – which we are making available online here – was conducted to assess the areas covered by ambulance 'blue light' travel speeds.

Large parts of rural Ireland (outside the red zones below), in particular along western counties as well as Wicklow in the East were to be excluded from access to home births if this recommendation was implemented.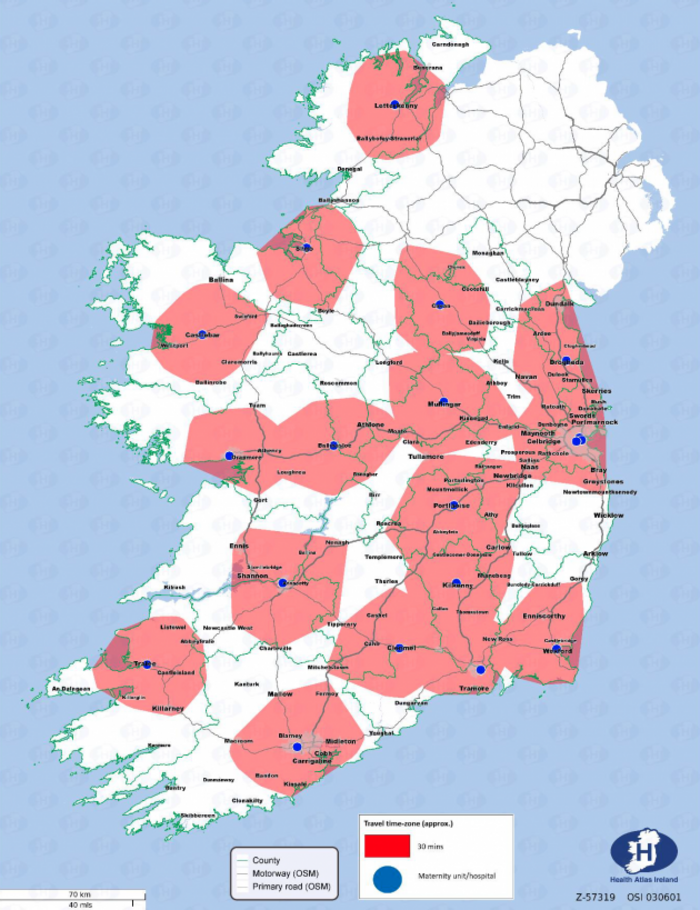 Source: Health Atlas Ireland Geospatial Analysis (via HSE FOI)
The South/Southwest Hospital Group (SSWHG) – covering Waterford, Cork, Kerry and Waterford – had requested such guidance be drafted by the HSE.
Following protests by advocates including Births Rights Alliance Ireland last year, the hospital group then said there was no change "in terms and time and distance", with home births in the area proceeding as normal.
This was noted in SSWHG minutes in December where it also stated that a "due diligence process" was to be completed.

As far as midwives and campaigners across Ireland are concerned, no change has been implemented. But minutes of the HSE Homebirths Committee reveal that official policy states otherwise.
In March 2023, months after these protests had resolved, John Smith, the HSE's Assistant National Director Acute Operations, stated that "this is clinical advice and [in] his understanding it is non-negotiable".
Noteworthy obtained these minutes through FOI as part of our BIRTH PLACE investigation examining lack of choice for expectant mothers – being published across this week. All of the meeting minutes we obtained are online here>>
When asked for an update given this "non-negotiable" stance, a spokesperson for the HSE stated that the "30-minute 'blue-light' guidance remains in place and will be kept under review".
It is important to note that the 30-minutes is a guide for maternity networks when assessing requests for a homebirth.
They added that "it is provided to support decision making, in conjunction with clinical judgement", as well as the eligibility criteria for HSE home births.
Midwives unaware guidance in place
From a HSE perspective it is "in place" but, as yet, there is a very different story happening on the ground.
The HSE Home Birth Service is free of charge for those who meet these criteria. Its availability to "normal risk women" was one of the key actions as part of the National Maternity Strategy.
The service is delivered by self-employed community midwives (SECMs). Dixon from the Community Midwives Association is a practising SECM in the Ballinasloe area.
She was unaware of any HSE meetings this year in relation to the 30-minute guidance. SECMs had not been involved in any discussions about this guidance since the controversy was supposedly resolved last year, according to Dixon.
"We're not aware of a woman being denied access to a home birth because her home address is more than 30 minutes from her nearest hospital."
No SECMs were at the HSE Homebirths Committee Meeting in March, with attendees made up entirely of staff from both the National Women and Infants Health Programme (NWIHP) and Acute Operations.
Dixon also said that they have not been told by the HSE that this guidance is currently in place.
We would be disappointed to hear it's on the table. It's not evidence-based practice.
It is evident from minutes of the various meetings last year that strong objections were made by midwives, including SECMs, Designated Midwifery Officers and Irish Nurses and Midwives Organisation (INMO) representatives.
Added stress during pregnancy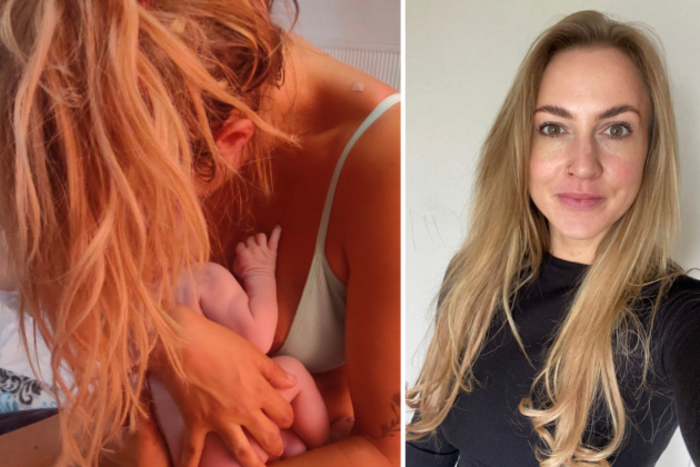 Source: Hayley Purtill-Quin
We spoke to a number of women who live outside the 30-minute blue light distance and had or were planning a home birth during the period of uncertainty last year. They all commented on the extra stress it added, especially towards the end of their pregnancies.
Hayley Purtill-Quin said that this restriction was recommended when she was around 38 weeks pregnant. She lives in Co Wicklow and her location falls well outside the 30-minute distance.
She looked into other options, including relocating for the birth, but the restriction was not implemented in the end so this was not needed.
The birth of her son, her second child, turned out to be extremely quick: "I think I gave birth within 30 or 40 minutes of realising I was in labour".
Had she not planned a home birth, she said that "it would have been really stressful and traumatic" as it would likely have been at the side of the road on the way to the hospital.
Instead, two home birth midwives arrived a few minutes after her son was born. "They were monitoring me and looking after me. Everything was nice and calm.
I have no trauma from that birth. I only have positive memories of it.
Sasha Kinch is now also based in Co Wicklow and was supposed to move there before she gave birth towards the end of last year, but stalled her move so that she stayed in her home birth catchment area.
She would now fall outside a 30-minute distance if implemented nationwide and said this would be a factor in her decision to have another child. "That would be very hard for me," she said.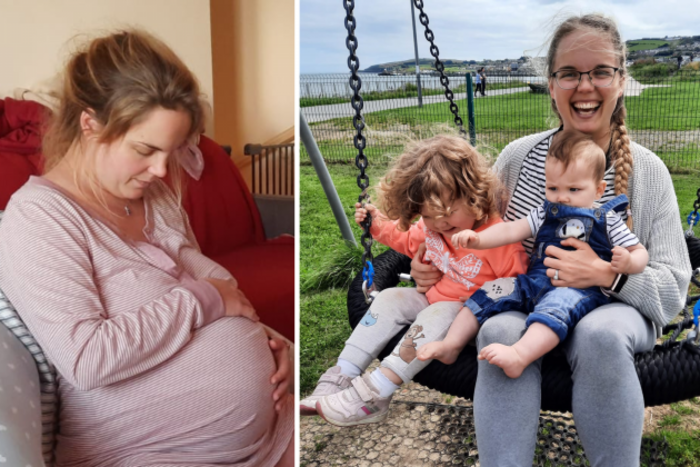 Source: Sasha Kinch
'Basic standard' not met by analysis
Concerns over lack of evidence for this guidance was noted in minutes of hospital group and HSE meetings last year, with two Designated Midwifery Officers saying in November that the geospatial analysis "does not contain a literature review to inform decision-making" – which they state is "a basic standard requirement".
The geospatial analysis quotes the HSE's Midwifery Practice Guidelines which says: "Ideally, the woman should be transferred to an obstetric unit within 30-40 minutes from the phone call to the ambulance service requesting the transfer. However, it is recognised and acknowledged that for many women it commonly takes 60 minutes."
It states that "this quoted time relates to studies of services" in the UK.
However, when Noteworthy examined the referenced research, there was no reference to any ideal distance or time, only the 60-minutes time taken.
When this was put to the HSE, the spokesperson said that the NWIHP – who developed the guidance – took into account a range of factors "including historic transfer rates into [a] maternity unit of mothers who commenced labouring at home".
They also used the geospatial analysis to balance the assessment "versus access of women to the service". This found that over 80% of the projected populations of women aged 15-49 were within the 30-minute zones.
Dixon said that that was a "city-centric approach" and for some midwives in their association, "85% of their practice would automatically be removed".
The Designated Midwifery Officer for the Cork and Kerry home birth service – where 36% of Ireland's home births take place – raised this at a hospital group meeting last year. She said that two-thirds of women due to give birth between November 2022 and February 2023 were "outside the 30-minute boundary".
Source: Health Atlas Ireland Geospatial Analysis (via HSE FOI)
The HSE also told Noteworthy that the transfer recommendation was heavily guided by the NICE Caesarean Birth Guideline in relation to a category one caesarean birth – when there is immediate threat to the life of the woman or fetus. In these cases, it is recommended they are carried out "before or within 30 minutes".
Dixon said that over the past five years "no woman had attended a maternity hospital and required a birth immediately", which reflects the "good decisions" being made by midwives about when women require hospital transfers.
Home birth information "needs to be followed on an ongoing basis", Greene said, as is always the case.
"If there's evidence to support that stance, then fine, then we'd support it. And if there's not evidence to support it, then we probably need to consider, do we relax it?"
Hospital groups 'expressed concerns'
It is clear midwives are not happy. It turns out neither are a number of hospitals.
A survey of the six hospital groups was also discussed at the March meeting of the HSE Homebirths Committee. In it, they were asked whether the 30-minute guidance "has been accepted" or "it hasn't" by their hospital group.
Dr Cliona Murphy, Clinical Director the HSE National Women and Infants Health Programme (NWIHP) was one of the two key leaders, alongside Angela Dunne – NWIHP's Lead Midwife – who issued the guidance back in July 2022. Both were at the meeting in March.
In relation to the survey, Murphy said at the meeting that "some answers were surprising, some feedback in writing differs to what was said verbally".
She had thought only SSWHG and University of Limerick Hospitals Group (ULHG) had "issues with the guidance" but "others expressed concerns in the questionnaire", and specifically mentioned Ireland East Hospital Group (IEHG).
Nine of the 19 maternity units are covered by these three hospital groups, including the National Maternity Hospital, which falls under Ireland East.
More details of the results of this survey and the concerns of these hospital groups were requested from the HSE, but it did not respond to these queries.
An interview with both NWIHP's Dunne and Murphy was also requested but this was not accommodated by the HSE.
Choices around maternity care proposed
Though midwives are highly critical of this guidance, they did suggest a number of ways to increase maternity choices and address concerns during a number of documented meetings last year.
One Designated Midwifery Officer suggested last November that it was important to involve both service users and Birth Rights Alliance Ireland in discussions around "the proposed restriction".
This did not happen, according to Jeannine Webster, midwife and co-founder of Birth Rights Alliance Ireland. The group alongside AIMS Ireland, took part in protests and a march last year when the restricted was put forward.
She told Noteworthy it was the first she had heard of this suggestion and felt the idea of them being involved was a good one. However, she said that the group was "never asked" for their opinion.
Plans for increased community services were also discussed as well as the rollout of improved hospital facilities.
At a meeting in October, in reaction to objections from midwives, the NWIHP "suggested home-away-from-home rooms as a solution".
Though a nicer environment than a labour ward, these still provide quite a different experience to women than home. They are based in a hospital setting and, depending on the maternity unit, can be obstetric rather than midwife-led. They are also not available in every unit as yet.
When asked about this proposal, a HSE spokesperson said that "all maternity hospitals/units, bar four, have home-away-from-home rooms in place". They are missing from Portiuncula in Galway, Letterkenny in Donegal, Clonmel in Tipperary and Kilkenny.  
—
Read more articles in this series >>

Why does the Irish health service offer so little choice for expectant mothers?

By Maria Delaney of Noteworthy
Noteworthy is the crowdfunded investigative journalism platform from The Journal. This investigation was proposed and funded by our readers alongside direct support from our investigative fund.
What's next? We also want to uncover how a broken system is detrimentally impacting women's health. Help fund this work >>