Lack of term limits and few women: Governance issues in local development companies
Analysis by Noteworthy finds a significant number of board members serving lengthy terms, with poor gender representation widespread.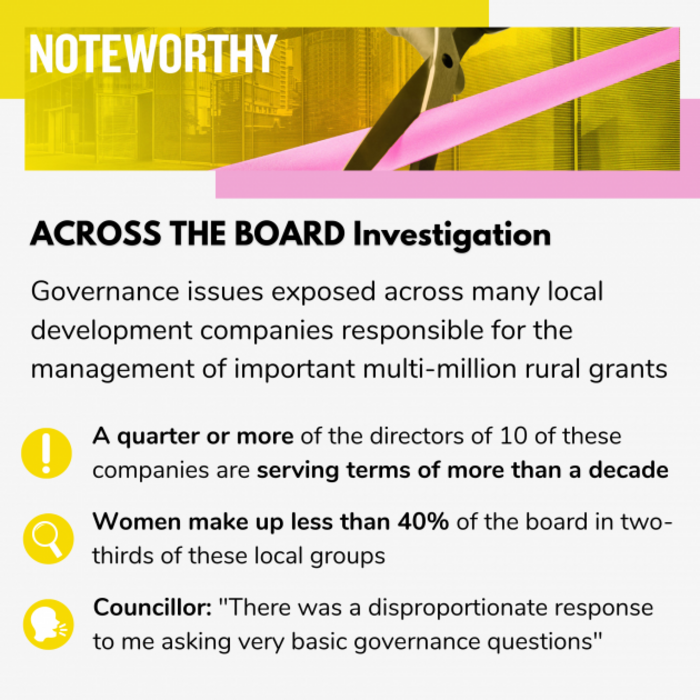 —
"I HAVE STUDIED corporate governance. It's a red flag when people are on board for too long."
When Kildare councillor Fiona McLoughlin Healy joined the board of a local development company that administers crucial rural grants, one of the first things she did was to ask for information – how long had other members been serving, who nominated them, and what were any conflicts of interest.
But the independent politician said she was met with hostility and resistance.
"These were very basic governance questions that you couldn't get answers to."
Eventually she found that a large number of members had served on the board for much longer than allowed in the company's constitution.
"They made it into this big thing, there was a disproportionate response to me asking very basic governance questions." 
Noteworthy put these comments to Kildare LDC but it did not respond to our queries in time for publication.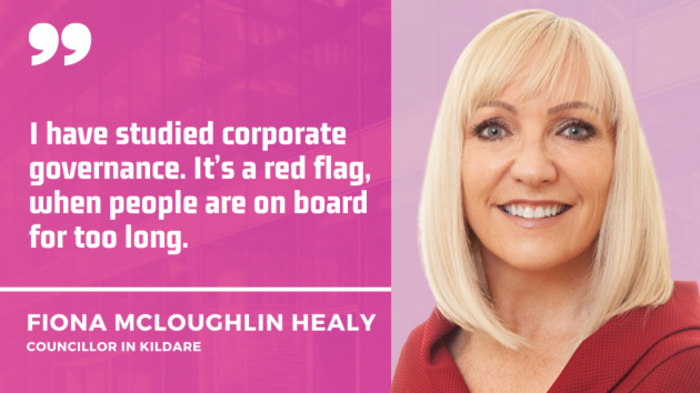 Source: Photo - Fiona McLoughlin Healy
Now, an investigation by Noteworthy has found that similar governance issues in a large number of other local development companies across Ireland, with a significant number of board members serving lengthy terms of over a decade.
There is also widespread poor representation of women on boards, with an analysis finding that for two-thirds of these groups, women made up less than 40% of their board.
These groups, which are generally local development companies (LDCs), are responsible for the management of projects funded under LEADER, an EU wide grant scheme and part of the National Rural Development Programme in Ireland.
LEADER is an EU-wide scheme promoting community-led local development. Since 1991, it has provided funds and support to initiatives in rural areas across the county, ranging from local businesses to tourism and community centres.
These LDCs are the first port of call for people applying for LEADER funding, and are responsible for the day to day management and coordination of the programme.
Since 2017, this programme allocated almost €230 million in grants across Ireland.
As part of our ACROSS THE BOARD investigation, Noteworthy spent the past few months analysing dozens of company records and government documents to examine the makeup of these boards. We can now reveal:
Board members are serving terms of over a decade on 10 local development companies responsible for the management of important multi-million rural grants, latest company details show 
This is in contradiction to the term limits in their own constitutions in some cases, with others amending constitutions to alter or remove term limits
Two-thirds of groups do not have equal gender representation, with as low as 7% women board members in one area
Many groups with longer serving board members also have poor gender representation, with a women's rights group saying that "women continue to be overlooked and undervalued" 
Part two of this investigation examines the distribution of LEADER grants and finds that just 8.5% of funding went to environment projects despite being one of three key themes.
 —
Serving more than a decade
An analysis by Noteworthy of company details of dozens of local development companies (LDCs) found that many have a large portion of the board membership serving terms of more than a decade – in some cases in contravention of their own constitutions.
Of the 37 organisations, we identified 12 that had a quarter or more of their directors serving terms of more than a decade. Often these also had poor gender balance.
Of the 12, there were 10 local development companies which are implementing partners delivering LEADER project related actions on behalf of local action groups (LAGs). These groups mainly represent entire counties, with some e.g. Cork split into three different areas. 
Two of these were animating partners which work closely with implementing partners to assist with LEADER projects. A Department of Rural and Community Development spokesperson told Noteworthy that this assistance includes "local knowledge and introductions with project promoters". 
Term limits – generally two consecutive three-year terms – are regarded as best practice by industry and government.
The Code of Practice for the Governance of State Bodies sets out guidance around term limits. Such limits are designed to advance priorities of promoting gender balance, diversity and inclusion.
Yet a number of these companies have no term limits whatsoever. Others have them, but in some cases, they appear to not be met.
Some previously had term limits, but amended their constitutions to alter or remove them.
Others told Noteworthy that they will make changes next year.
A spokesperson for Clare LDC, where almost 40% of directors have served on its board for a decade or longer, and less than 10% of its directors are women, said it has recently completed a governance review.
Elections will be held early this year, and the spokesperson said that Clare LDC is committed to "adhering to best practice regarding the term of office of Directors".
North Tipperary LDC also said they will make changes this year, and that two directors that have served on its board for more than a decade will resign their next AGM in July.
Their constitution has provision for board directors to serve two terms of three-year each.
Moy Valley Resources IRD has more than half the board serving for longer than a decade. This company is an animating partner.
CEO Annette Maughan said that "it is not for the want of trying that board members remain in place longer than they would like to… there is simply a lack of people, a lack of confidence and too much demand on the few who are capable and confident".
Recent changes to boards
Councillor McLoughlin Healy said that after bringing to light the fact that many directors had served long terms – in some cases as long as 12 years – the company brought in a governance expert.
She said the Constitution was amended and by the next AGM all of those directors were gone.
Records for the County Kildare Leader Partnership Company do show a significant number of people who had been on the board for over a decade all resigning around the same time in 2020.
Noteworthy put these comments to Kildare LDC but it did not respond to our queries in time for publication. 
In addition to Kildare, the local development company in Sligo also had a number of long-serving board members resign in 2020.
Patricia Gardiner, a member of the local Public Participation Network (PPN) which engages with LEADER, said she has a keen interest in environmental issues and wanted to know if there was an environmental representative on the Sligo LDC.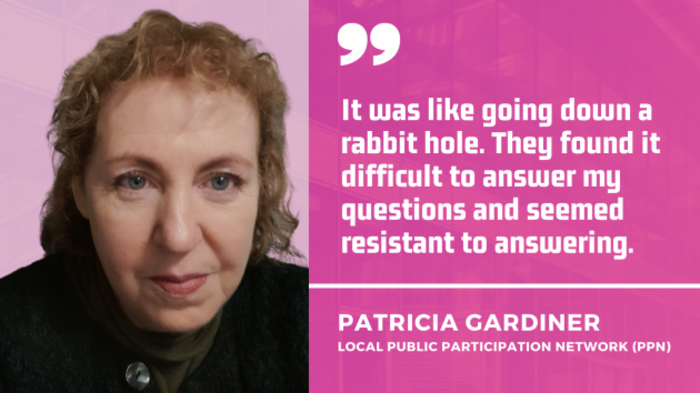 Source: Photo - Patricia Gardiner
This information was not readily available, she said. Gardiner said her requests for information about board membership nominations and length of terms served was met with "resistance".
"I just kept asking more questions. It was like going down a rabbit hole. They found it difficult to answer my questions and seemed resistant to answering."
Around the time Gardiner said she raised these issues with Sligo LDC, there was change to their board. Company records show that in around 2020 a number of long term board members resigned, including one who has served for 21 years.
Noteworthy put these comments to Sligo LDC. We also asked for comment on the fact that until 2020 a number of directors served terms of 12 to 20 years, and that a current member of the board was first appointed 18 years ago.
A spokesperson did not answer these questions directly, but said in a statement that "no directors have served more than three terms of three years on our current board". They added:
"Training on Corporate Governance was provided for all board members and we have a 'Governance & Oversight' committee that meets every quarter. Sligo LEADER Partnership is committed to good governance."
Asked about what efforts the Department of Rural and Community Development, which manages LEADER, is taking to engage with LDCs on this issue, a spokesperson said that local development companies "deliver a wide range of programmes on behalf of many Government departments".
"However, they are independent companies, governed by voluntary boards and are also registered charities. As such, they are obliged to carry out their business in line with the provisions of the relevant Companies Acts and the requirements of the Charities Regulator.
"Government departments have no direct role in the governance arrangements of these companies." 
Widespread poor gender representation  
By examining the boards of almost 40 groups involved in the management of LEADER, we found that almost two-thirds (62%) do not have equal gender representation, meaning that less than 40% of their board members were women.
Of 37 companies, 23 had less than 40%.
In some cases, such as companies in Clare and Co Cork, this was less than 10%.
Orla O'Connor, director of the National Women's Council (NWC) told Noteworthy that these figures "show that when we wait for change to happen by itself, it is too slow or doesn't happen at all". She added:
"Despite often better educational outcomes, women continue to be overlooked and undervalued by an outdated and rigid set of policies and practices. 
"This means women are excluded from the rooms of power, where key decisions affecting their lives are made. This has serious consequences for our lives and entrenches gender inequalities.
"Including women in senior management and on boards makes full use of the available talent, incorporates more diverse perspectives and life experiences, and – in turn – leads to greater innovation, higher productivity and better working conditions."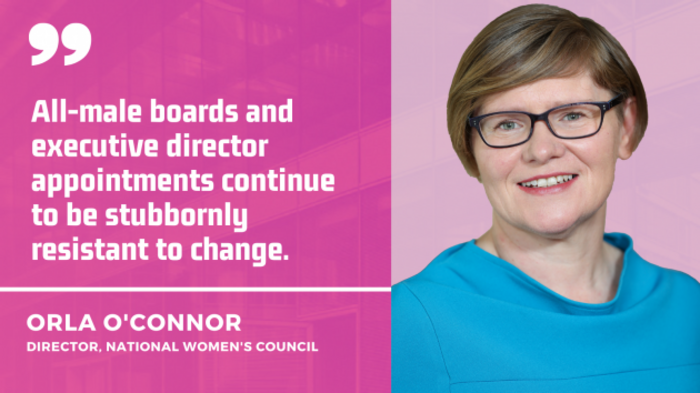 Source: Photo - National Women's Council
The NWC supports legislative quotas of 40% women.
Such targets are not new. It stated in a recent report that a 40% quota on state boards was introduced back in 1993 and took 25 years to meet.
This "snail-like" pace in which it took state boards to meet the target led the NCW to argue for legal quotas, the organisation stated.
A legislative quota "is a blunt instrument, but a necessary tool if we are to enact meaningful change", O'Connor wrote in the report.
And recently calls for wider enforcement have gathered steam.
The Citizens' Assembly on Gender Equality report in 2021 recommended the enactment of gender quota legislation that requires companies to have at least 40% gender balance on their boards.
In December, the Joint Oireachtas Committee on Gender Equality also recommended gender quotas, and a Private Members Bill on the issue has received Government Support.
Resolving imbalance 'not a simple task'
We asked dozens of local development companies (LDCs) about the gender balance on their boards.
Moy Valley Resources, a company involved in LEADER based in Mayo, has four women (25%) on its 16-member board. Its CEO Annette Maughan said that it "has numerous policies in relation to the board but there are no policies specifically relating to gender balance".
Maughan added that "at this time [we] are actively engaged with several female prospective board members as we work to achieve a better balance on our board". She said that "crafting gender balanced boards" was a "challenge".
"Resolving this imbalance is not a simple task however."
Other companies have targets, but are failing to meet them. North Tipperary LDC said they strive for "at least 40% male and female representation", but currently 11 members are male (almost 80%), and three members are female.
They said that "gender balance will be an important consideration when recruiting new members", and that a public call for new directors this year will include a target call for women candidates.
"The Board will also use the Co-option provision for female representation. All constituent groups that nominate to the Board are requested to provide both a male and female nomination."
Dóirín Graham, chief executive of Clare Local Development Company, where just two (9%) of the 22 board directors are women, said that the company "is fully committed to meeting the 40% gender balance target in 2023".
Spokespersons for other companies, such as Sligo LDC, said that they aim to meet a 40% target, but in a longer time frame of over the next two to three years.
Sligo LDC currently has six women (33%) out of 18 members on its board. The spokesperson for the company said that they are currently reviewing their policy on board rotation. 
Other companies, such as Kildare LDC, have and meet a target of 40%. Currently, Kildare LDC's board has six women (60%) and four men (40%). A spokesperson for Kildare LDC said this meets their policy of at least 40% female participation on its board. 
Offaly LDC, which needs to fill a vacant seat with a woman candidate to meet their own 40% gender quota, said they would be doing so. 

Even those which do currently meet the quota spoke about difficulties. For instance, a spokesperson for Cavan LDC whose board comprises of over 40% women said: "The board strives for gender balance where possible but unfortunately as its difficult to attract volunteers we have to take the best nominees we can."
Many others did not respond to repeat requests, or declined to answer questions. This included Avondhu Blackwater Partnership Company in Cork who had the worst gender representation, with just one woman (7%) out of a total of 14 board directors.

A spokesperson for the Department of Rural and Community Development did not add anything further to their comment on having "no direct role in the governance arrangements of these companies" when asked about poor gender diversity on boards. 
—

Part two examines the distribution of LEADER grants and finds that just 8.5% of funding went to environment projects despite being one of three key themes

By Luke Butterly for Noteworthy
This investigation was proposed and funded by readers of Noteworthy, the crowdfunded investigative journalism platform from The Journal. 

Please support our work by submitting an idea, helping to fund a project or setting up a monthly contribution to our investigative fund HERE>>