Environment gets under 10% funding of rural LEADER grants despite being a key theme
GAA-related projects got 6% of total funding as community interest in environmental projects 'not strong'.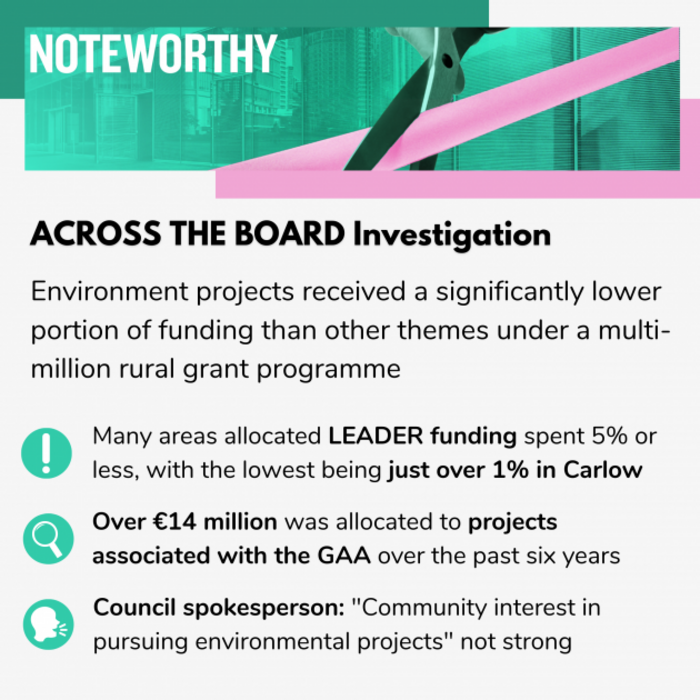 —
JUST 8.5% OF a multi-million rural grant programme went to environment projects, despite this being one of three key themes designated for this funding. 
LEADER, a rural development programme co-funded by the EU, is based on a community-led approach to rural development and aims to support communities and enterprises across three areas: job creation, social inclusion and environmental projects.
A report from independent think-tank TASC on community-led development for climate justices in Ireland in November 2020 stated that the bottom-up model of LEADER is potentially well suited "to address the dual challenge of local development and climate action".
There is no set allocation per the three themes but Noteworthy analysed grant allocation from October 2016 to July 2022 and found that €19.3 million out of €228m was spent on environment projects.
The remaining is divided between social inclusion and job creation, with most allocated to the latter. 
Noteworthy, the crowdfunded community-led investigative platform from The Journal, supports independent and impactful public interest journalism.
€250 million was made available for the period 2021 to 2027. There is no set allocation per these three themes. 
Minister for Rural and Community Development, Heather Humphreys said in September that LEADER is a "key part" of the government's "commitment to families across rural Ireland". 
"LEADER will continue to play a central role in supporting rural communities for years to come," she said.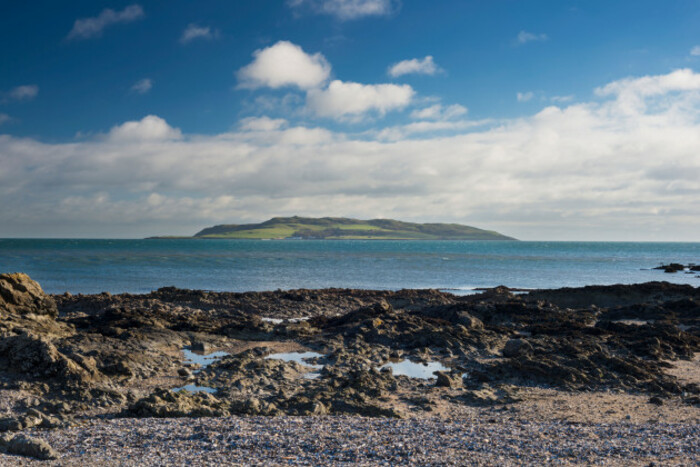 Source: Michael David Murphy/Alamy Stock Photo
However, an investigation by Noteworthy now shows that one of these themes – environment – is consistently and significantly underfunded compared to the others.
As part of our ACROSS THE BOARD investigation, Noteworthy delved into the distribution of LEADER grants and found that under 2% of funding went to environment projects in a number of areas.
At the same time, over €14 million went to projects associated with the GAA – up to 10% of one area's grant allocation
Earlier today, we showed a significant number of board members in companies responsible for the management of important multi-million rural grants serving lengthy terms, with poor gender representation widespread.
—
Just over 1% spent in some areas
By reviewing dozens of official government documents from October 2016 to July 2022, we have shown this pattern of low funding for environment projects was replicated across all LEADER areas in Ireland.
Many spent 5% or less, with the lowest being just over 1% in Carlow. Almost all spent 12% or less.
The highest, in Galway West, was still only 19%.
The full list of grant allocation to environment projects by LEADER area can be viewed here.
Local Community Development Committees (LCDCs) are responsible for coordinating, planning and overseeing local and community development funding, such as LEADER.
These committees representing the relevant local authority area – generally the county council – and are comprised of councillors and representatives from state agencies, the community and voluntary sector and social partners.
Noteworthy asked the LCDCs with the lowest spend for comment.
Most did not respond, but in Waterford, where less than 2% was spent on 'Rural Environment', a representative of the County Council said that:
"Community interest in pursuing environmental projects has not been as strong as perhaps it could be."
The spokesperson added that there are a range of reasons and barriers, such as the need for groups to provide match funding. This equates to 25% for community groups and 50% for private companies or individuals.
"Expenditure is dependent on voluntary groups, private enterprise and individuals deciding to respond to the targeted calls for funding," they said.
Even where interest was strong, such as when €200,000 was allocated to one hydroelectric project in Waterford, the project is still not running seven years later due to objections.
Work financed through other streams, such as enterprise, has in the past financed new technologies which have helped "reduce energy costs, reduce raw material waste and improve efficiencies", the Waterford spokesperson said.
"This investment has long term environmental benefits as well as job creation."
They also said that the new 2023-2027 LEADER programme will "no doubt feature stronger emphasis on the environment, climate action and the circular economy", and noted that LEADER is just one part of the overall CAP [Common Agricultural Policy] Fund from which supports " the bulk of the environmental actions".
Department 'no role in these matters'
In Louth, where just under 7% was spent on environmental projects, senior executive officer Finbar Gethins said that there were a number of training projects allocated funding which " will help build capacity in the community to work towards their environmental goals".
Trainings have included "appreciation of the hills, biodiversity training, rainwater harvesting, community composting, plastics recycling, [and] water resources management".
The Department for Rural Affairs, which has responsibility in this area, told Noteworthy that "there is no requirement for the funding allocated to a Local Action Group (LAGs) to be equally distributed across the three LEADER themes".
They said the groups in the different council areas are responsible for the approval of all projects for grant aid and that "the Department has no role in these matters".
They added that a consultation process with stakeholders for the development of the Local Development Strategies will be undertaken in the first half of 2023 for the new 2023-2027 LEADER programme.
GAA allocated over €14 million 
In addition, projects associated with the GAA received a significant portion of total grants in many LEADER areas.
Government records show that from October 2016 to July 2022 such projects have received over €1.8 million in Cavan, almost €1.6 million in Westmeath and €1.1 million in Galway East.
In a further 13 areas such projects received totals ranging from €450,000 to €800,000 during the same time period.
Westmeath allocated almost a quarter of their total LEADER budget to projects associated with the GAA since 2017.
The next highest was Cavan, with 19%. Another six areas spent more than 10% of their total budget on such projects.
In total, this amounted to over €14 million, or just over 6% of total LEADER budget of €228 million during this period.
Three LEADER areas – Clare, Kilkenny, and Galway West spent none of their budget on GAA projects.  
Noteworthy reached out to the GAA to ask them about this allocation of rural grants. A spokesperson said this was not a matter for the organisation, that GAA clubs were free to apply for support like any other group, and the the allocation of state funding was a matter for the relevant authorities.
Facilities must benefit entire community 
Common GAA projects funded by LEADER are pitch lighting, walking tracks, astroturf, playgrounds or car parks.
LEADER guidance makes note of potential issues, with the Operating Rules explicitly mentioning that any funding going to GAA or other sporting facility is conditional on the implementation of an 'inclusion strategy', to ensure use of the facility by the entire community.
"It is not sufficient to state that the community centre is open to all," the guidance says.
It also notes that the Department of Rural Affairs will perform ex-post checks to verify adherence with this requirement.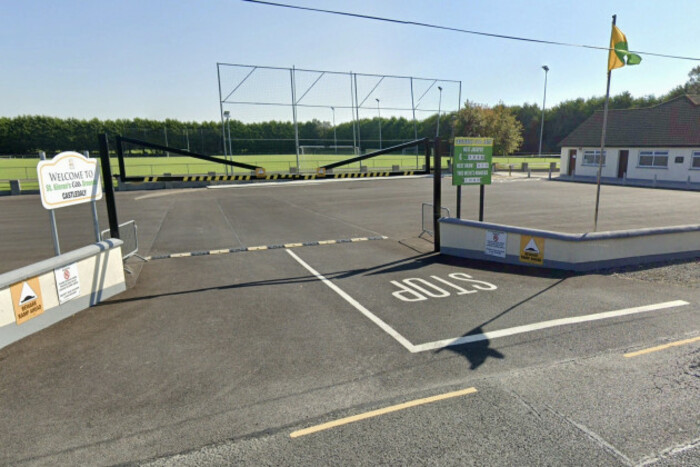 Source: Google Earth/Street View
There were 240 projects associated with the GAA funded between October 2016 and July 2022, the period analysed by Noteworthy.
However, when Noteworthy asked, the Department confirmed that only four GAA facilities had post-grant verifications since 2020.
A further four checks were conducted on non-GAA sports projects – three tennis and one soccer. No non-compliances were identified, a spokesperson said.
In regards to the high amount of funding allocated, a spokesperson for the Department Rural and Community Development said that the "Department or Minister has no role in approving a project, or otherwise, for LEADER funding". 
They said that "in order for a project to be eligible for LEADER funding, it must be compatible with the actions outlined in the approved Local Development Strategy for the relevant LEADER area" and "it must comply with the Operating Rules and EU Regulations in place for the programme".
For funding of "a facility on the grounds of a sporting organisation e.g. GAA or soccer club, the award of funding must be conditional on the promoter developing and implementing an inclusion strategy to ensure use of the facility by the entire community", the spokesperson said, adding: 
"Active efforts should be made to market the centre to all segments of the community."
—

Read part one now which examines governance issues in local development companies and finds lack of term limits and poor gender representation

By Luke Butterly for Noteworthy
This investigation was proposed and funded by readers of Noteworthy, the crowdfunded investigative journalism platform from The Journal. 

Please support our work by submitting an idea, helping to fund a project or setting up a monthly contribution to our investigative fund HERE>>