Swimming restrictions hit over half of all Irish bathing waters this summer
Sea swimming has never been more popular but risks of pollution are also rising.

THE POPULAR INCH Mile sea swim off the coast of Rathmullan in Co Donegal didn't happen this August due to unacceptable levels of harmful bacteria in the water.
In fact, Rathmullan Beach was one of the Irish bathing spots hit with a high number of swimming restrictions this year, analysis from Noteworthy has found.
Restrictions range from swimming bans, when water is polluted, to warnings, when the pollution risk is high but the water hasn't yet been tested.
The Inch Mile swimmers are caught between two points where sewage enters the sea: Rathmullan village itself and from untreated wastewater flowing out from Buncrana across Lough Swilly. Further inland along the coast, raw sewage is also released at Ramelton.
The Donegal event was not the only swimming meet to be cancelled this summer.
While almost 80% of our bathing water was classed as excellent in 2022, a wave of bans have hit swimming spots across the country in recent years due to water quality issues linked to pollution, algae and our changing climate.
Despite legal requirements to improve bathing water quality, there are still 26 spots around Ireland where raw sewage is pumped into the environment and 15 wastewater treatment plants that fail to meet EU standards. Swimmers are especially impacted when these factors are combined with heavy rain.
Noteworthy, the crowdfunded community-led investigative platform from The Journal, supports independent and impactful public interest journalism.
Just how bad is our bathing water?
For our RED FLAG investigation, Noteworthy examined over 1,600 bathing restrictions from the last ten years. We limited our final analysis and mapping to the 148 regulated locations across Ireland where testing by local authorities is mandatory.
The number of days on which Ireland's official bathing spots have been restricted has almost tripled in the past decade – from just over 600 in 2014 to over 1,700 in 2023, our analysis reveals.
"I'm not surprised," said Gerry Jones, the chairperson of volunteer campaign group SOS Dublin Bay. "I'm massively disappointed by what's happened. But I'm not surprised."
In total, over half (80) out of the 148 regulated bathing waters across Ireland had restrictions during this year's 15-week bathing season. Of those, 20 were restricted for more than a month and an additional 51 were restricted for more than two weeks.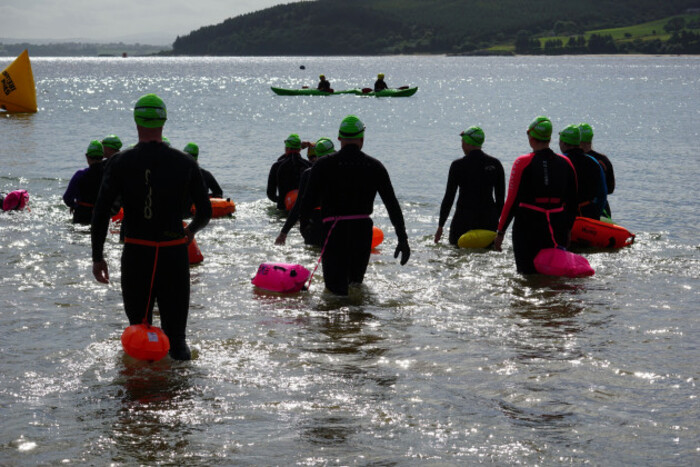 Source: Maria Delaney/Noteworthy
Water quality must be tested at regulated bathing waters at least four times during the bathing season which runs here from 1 June to 15 September.
Precautionary restrictions called 'prior warning' notices are issued when there's a risk of water quality deteriorating, typically following heavy rain. If water sampling has shown water quality deterioration, local authorities issue 'advisories' or 'prohibition' against swimming.
Heavy rain spreads bacteria – why you shouldn't swim
Much of the increase in restrictions this year was due to the risks from heavy rain.
Environmental Protection Agency (EPA) guidance states that people shouldn't swim for 48 hours after heavy rain. In addition to that blanket advice, local authorities may choose to put up 'prior warnings' ahead of heavy rain in specific cases.
They're issued because local authorities believe their bathing waters to be at particular risk of pollution from sewage overspill or agricultural runoff during heavy rain.
Not all bathing waters get them. It's a good interim measure as long as local authorities also fix the underlying problems, explained Karin Dubsky of Coastwatch, an NGO with its Irish base in Wexford.
"Heavy rainfall is a key risk factor for transferring bacterial pollution from animal or human waste through the landscape," said an EPA spokesperson.
The top three reasons for all restrictions are pollution from agriculture (mostly livestock), runoff from surface waters which can include dog fouling (a particularly concerning source according to the EPA) and contamination from urban wastewater.
The last occurs when the volume of wastewater exceeds what treatment plants can handle, or there are no treatment plants. Raw or poorly-treated sewage is then discharged directly into the environment. This happens in almost 40 locations around Ireland.
Rise in restrictions due to rain
The number of days with prior warning notices due to rain reached the highest it's ever been over the summer. Over 1,200 were issued during the 2023 bathing season compared to under 1,000 last year and under 400 in 2014.
Heavy rain also resulted in triple the days that bathing bans – rather than warnings – were in force this summer compared to 2022.
Overall, when all reasons for restrictions are included, the number of days that swimming was banned due to confirmed pollution have remained relatively static for the past decade, despite legal requirements to improve bathing water quality.
The increase in prior notices this year doesn't say anything about water quality, explained an EPA spokesperson. It means that the local authorities were more proactive or that there was more rain, they said.
In fact, from a public health perspective, the increase in prior warnings could be seen as a positive thing. "They may not always result in a confirmed pollution event occurring," said the spokesperson.
They are designed to take a precautionary approach to protecting public health
But the notices still put people off swimming.
"On the one hand, yes, if this is a short term public health warning, I welcome it," said Dubsky of Coastwatch. "But it also brings a huge obligation to act."
"People need information but it must not be seen as a get out of jail free card," she said.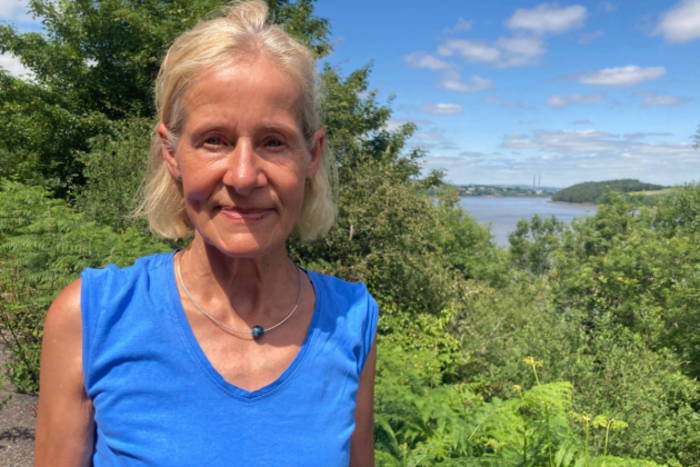 Source: Eoghan Dalton/Noteworthy
We asked the EPA how often heavy rain leads to pollution. It told Noteworthy that in 2022, 186 prior notices were put up and in 16 of those cases, subsequent testing showed that the water quality was impacted by the heavy rain that was forecast.
This question is likely to become more urgent. Met Éireann warned in June that Ireland should prepare for much heavier rain due to climate change.
This "may lead to an increase in the number of Prior Warning notices at our bathing waters," said the EPA spokesperson. Local authorities can reduce the risks by "implementing measures in the catchment areas of the bathing waters to prevent pollution from runoff", they added.
Sewage – the biggest cause of swimming bans
While a prior warning may not necessarily lead to pollution, "there's a total link between the weather and the amount of sewage issues," said Dubsky. "The issue is what action should be taken because we know that there will be more extreme weather."
Further Noteworthy analysis shows that many of the worst beaches are beside areas where raw sewage is pumped into coastal waters. Dublin Bay, parts of Donegal and other areas on the west coast are particularly affected.
As with the example of Lough Swilly, such raw sewage comes from towns and villages which are unconnected to treatment plants or from wastewater treatment plants which are unable to deal with the volume of sewage that they have to process. These pump untreated sewage straight into the sea when they reach capacity.
The almost 40 areas around Ireland where raw or poorly-treated sewage is discharged include 15 wastewater treatment plants that fail to meet EU-required standards and two areas that occasionally discharge untreated wastewater, affecting bathing water quality. The rest pump raw sewage directly into the sea.
+ Is your local area discharging raw sewage? Find out here >>
In some of these cases, Uisce Éireann projects to address the problem are nearing completion.
Ivana Bacik, Labour Party leader and TD for Dublin Bay South, told Noteworthy that heavy rain is the "absolute bane of the lives of swimmers" in her constituency and that Dublin Bay is particularly affected by sewage.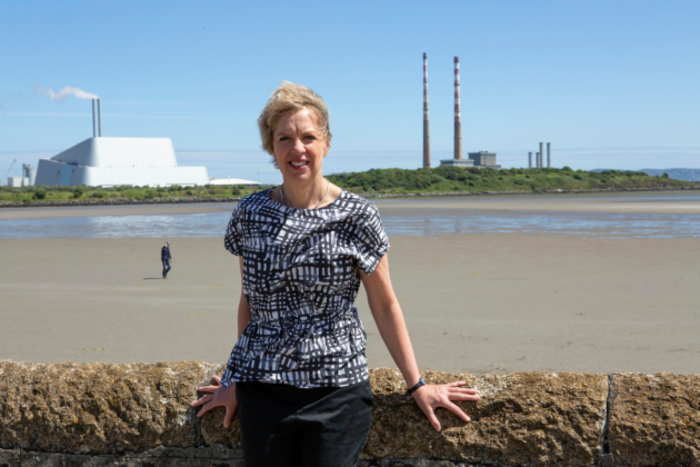 Source: Ivana Bacik
The two beaches with the most swim bans in 2023 were in Dublin Bay: Dollymount Strand (53 days, 50% of the bathing season) and Sandymount Strand (49 days, 46% of the season).
Despite so many days of bans, the beaches are still classed as having 'good' overall water quality. Noteworthy analysis found that bans were in place on days when Dublin City Council (DCC) reported samples showing 'excellent' quality water.
Restrictions "require an end of incident sample to confirm the event has ceased or no longer poses a risk to bather health, before being lifted," the DCC spokesperson said. They added that it takes time for water sampling results to come through, which further explains the discrepancy.
Both beaches are located close to the Ringsend Wastewater Treatment Plant which is operating over capacity in violation of EU standards.
Billions of litres of untreated wastewater have been released into Dublin Bay in the past number of years. A €500 million upgrade to the plant is due in 2025.
DCC acknowledged the increase in restrictions over the summer. A spokesperson told Noteworthy that this was "primarily linked to the unseasonal and at times extreme weather events experienced". They noted that July 2023 was the wettest on record with five rain and thunderstorm warnings for Dublin.
In addition to the "significant pressure" from urban wastewater, bird and dog fouling as well as polluted rivers "contribute significantly to temporary deteriorations in bathing water quality", the spokesperson added.
"We are confident that our performance record presents evidence that we take our professional responsibilities seriously, especially with regard to protecting public health."
Pace of improvements 'too slow'
"There's an acknowledgement by the government that infrastructure is not good enough", according to Bacik.
The EPA has classified all of the spots where untreated or insufficiently-treated sewage flows into the environment as 'priority areas' for Uisce Éireann to deal with quickly.
Some, like Ringsend, are underway. Of the 26 towns that release raw sewage into the sea, construction work has started at 15, according to an Uisce Éireann spokesperson. Many of these will be completed later this year or early in 2024, they said.
In June, Uisce Éireann and Donegal County Council began work on a new Rathmullan, Milford and Ramelton Sewerage Scheme, due to be finished in 2025.
This "will finally bring to an end the decades-long practice of discharging raw or poorly treated sewage into Leannan Estuary, Lough Swilly and Maggie's Burn", said the spokesperson.
No plan is in place for the remaining 11, but Uisce Éireann told Noteworthy that it is "progressing design and planning" and expects to have the majority of the sewage discharge ended by 2025.
This includes well-known tourist spots like Lahinch and Kilkee in Co Clare.
"The pace at which essential improvements in wastewater treatment are being delivered is too slow," wrote the EPA.
When we put this to Uisce Éireann, the spokesperson said that it is responsible for over 1,000 wastewater treatment plants and had inherited a system that suffered from decades of underinvestment. When it was set up in 2014, there were 50 locations where raw sewage was being discharged, 24 no longer do.
"Since then, we have made very strong progress in ending the discharge of raw sewage, improving wastewater plants and protecting the environment," said the spokesperson, adding that 65% of raw sewage discharges by volume have been eliminated.
"In general, it's not a good idea to be putting sewage into water where people are swimming," said Dearbháile Morris, Professor of Antimicrobial Resistance and One Health at University of Galway.
"If you've got raw sewage going into a designated bathing water, really testing that for faecal contamination is pointless, because you know there's faecal contamination."
Testing only looks for two types of bacteria
Even when tests show good bathing water quality, experts are concerned that these may not capture the full risk.
Ireland tests its bathing water in line with European standards: as a proxy for all bacteria we test for E Coli and intestinal enterococci.
"Just looking at the total E coli and saying, 'Yes, there's just this amount of E coli, this water is of excellent quality,' doesn't necessarily cover all of the potential public health risks," explained Morris.
Current testing, for example, results in paradoxes such as at Keeldra Lough, where its bathing water was classed as 'excellent' all season but it wasn't safe to swim for a lot of that time.
This lake is the only regulated bathing water in Leitrim and tops our list for most number of days closed to swimmers this year.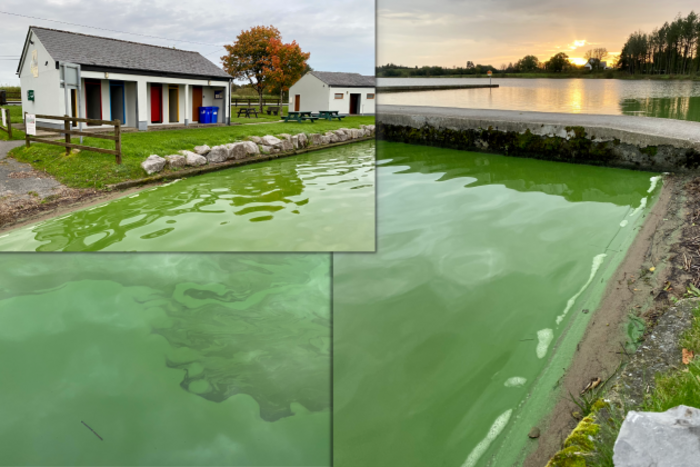 Source: Maria Delaney/Noteworthy
A toxic algae bloom meant swimmers were advised not to swim from mid-July until past the end of the bathing season in mid-September. The lake was also restricted for prolonged periods in 2021 and 2022 for the same reason.
Leitrim County Council told Noteworthy that it is working with Inland Fisheries Ireland and the local community to fix the problem using barley straw to control algal growth in the lake. A spokesperson for the council said:
There is an ongoing problem with algae in Keeldra lake.
The water quality at most Irish bathing waters "meets or exceeds the appropriate standards", according to the latest EPA bathing water report which found that 79% of bathing sites have 'excellent' water quality while 97% meet the minimum standard.
But this ignores some important gaps in reporting.
Throughout the duration of the swimming ban due to algae, the testing results reported to the EPA and published online showed that the water quality at Keeldra Lough was 'excellent'.
This is because the Bathing Water Regulations don't require testing or reporting of toxic algae, explained the council spokesperson. Leitrim County Council tests for algae independently.
Noteworthy found similar discrepancies at other bathing waters.
Local authorities are only legally obliged to sample once a month, when they're notified about pollution risks, and following a prior warning notice after the rain has passed. Some do sample more frequently.
Samples might miss pollution, and local authorities are also allowed to discard samples as long as they meet the minimum once-monthly requirement. This is a concern, according to Dubsky of Coastwatch.
Another issue is that testing can also only tell if a bacteria is E Coli, not if it's antibiotic resistant.
Morris' team reported the first instance of serious and hard-to-treat superbugs, Carbapenemase-producing Enterobacterales (CPE), seven years ago. CPE is so serious that it was declared a public health emergency in 2017 – the last one before the Covid-19 pandemic.
Their research found "CPE in waters that were defined as sufficient, good or excellent quality".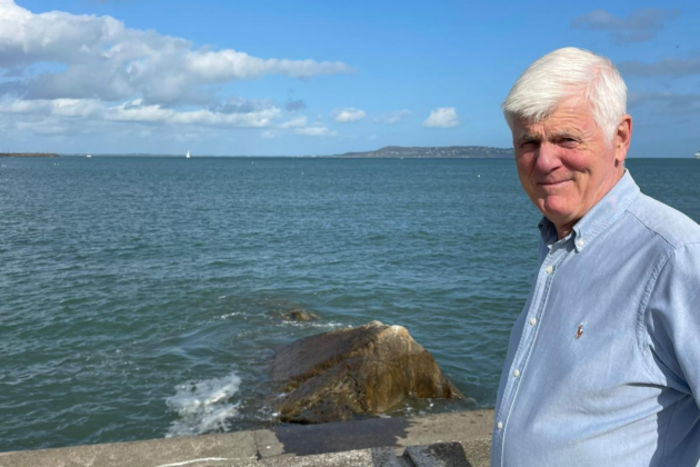 Source: Gerry Jones
People have told Gerry Jones of SOS Dublin Bay that they have become sick after swimming in Dublin Bay. However, he acknowledged that it's difficult to prove.
The HSE estimated that most (up to 96%) gastrointestinal illness caused by water pollution is likely to go unreported.
Steps needed to protect bathing waters
The Irish Society of Specialists in Public Health Medicine "feels strongly that more needs to be done to keep the water in our rivers, lakes and beaches clean," a spokesperson told Noteworthy.
The two areas most sorely failing the swimming public are the ailing infrastructure that sees raw sewage and untreated wastewater enter our bathing waters; and hit-and-miss testing which is not up to the job of properly pinpointing the risks for swimmers in a timely and accurate manner.
When it comes to testing, technology in the area is improving and becoming more affordable all the time. It is hoped that recommendations to upgrade testing that would identify more types of bacteria, more quickly and more consistently, will be introduced if the EU Bathing Water Directive is updated.
It is currently under review and the EU Commission will soon decide whether it is still fit for purpose or an update is needed.
The Irish Society of Specialists in Public Health Medicine is also calling for more popular bathing spots to be added to the current list of designated – and therefore regulated – swimming waters.
It also strongly suggests that testing of waters happen outside of the current bathing season structure (1 June to 15 September). By law, local authorities do not have to test officially designated bathing waters outside of the designated bathing season.
Minister Darragh O'Brien, whose office oversees local authorities, tacitly acknowledged the limitations of the current testing regime in the Dáil last year. He said that increasing testing beyond the bathing season might give results that we don't want.
"If we extended the EU directive designated bathing water season into the winter, it increases the potential for adverse results and may unnecessarily put summertime designations in jeopardy."
However, he had stated two months before this that he didn't "see any reason the testing of water cannot be done and published on a year-round basis" and his Department "was working towards that". He said that they had "engaged with the three coastal Dublin local authorities in that space".
A National Bathing Water Expert Group is also currently exploring ways to protect swimmers year-round.
When it comes to fixing the problem of pollutants themselves, the solutions are more complicated and complex.
Problems due to agricultural runoff, because they happen over widespread areas, will be more challenging to fix. Urban wastewater issues may be more straightforward, although time consuming and costly.
However, in 2022 the EPA estimated that it will "take a multi-billion-euro investment and, based on current investment levels, at least two decades to get all treatment systems up to standard."
Politicians like Bacik have also introduced legislation that may also help improve bathing water.
We're swimming in water and we can't stand over the quality.
She said there are currently multiple authorities responsible for managing Dublin Bay. Her Dublin Bay Bill hopes to streamline regulation to address a clear "lack of joined up thinking".
—
Source: Maria Delaney/Noteworthy
The Inch Mile swim was reorganised for the end of September but then had to be totally cancelled due to a forecast of poor conditions at sea.
One of the organisers from Gartan Open Water Swimmers told Noteworthy that when it was first postponed back in August due to pollution, it "was a big disappointment because of the months of planning" but that the decision to protect people's health was easy to take.
Rathmullan's sewage problem will hopefully be fixed in 2025.
Until then, the 190 swimmers who signed up to take part will have to hope pollution doesn't ruin their chance next year.

Is swimming off Ireland's coast under threat from pollution?

Reporter: Alice Chambers ● Data Analysis: Alice Chambers & Maria Delaney
Noteworthy is the crowdfunded investigative journalism platform from The Journal. This investigation was proposed and funded by our readers alongside significant support from our investigative fund.
What's next? Pollution is impacting the air we breathe and numerous delicate habitats across Ireland. Help us investigate >>