Hundreds of acres of vital urban nature lost to astroturf in Dublin
Habitat loss and microplastics pollution from explosion of pitches provoking serious concern during biodiversity crisis.

OVER 220 ACRES of open space in Dublin has been replaced with artificial sports pitches since 2000, impacting vital grassland and protected species.
A new Noteworthy analysis of planning files and satellite imagery shows a surge in the building of pitches by private businesses, schools and community groups in the capital.
Not only are astroturf pitches popping up everywhere, they are also growing in size. Our data found soccer, rugby, GAA and hockey clubs are rapidly replacing grass pitches used for training and match-day. Natural habitats are also being removed across the capital.
This isn't just impacting open space and amenity spots but also affects areas used by protected and vulnerable bird species, at a time of when biodiversity is in crisis.
Noteworthy, the crowdfunded community-led investigative platform from The Journal, supports independent and impactful public interest journalism. We are investigating the biodiversity crisis. Support our work here>>
The main reason that artificial pitches are taking the place of their natural cousins is down to the ability to sustain much higher levels of use in all weather conditions year-round. 
But there is growing pushback from community activists and nature experts over the impact on bird species that use urban parks, green spaces and natural grass pitches to forage for food, rest, take shelter and nest. 
Synthetic pitches are made up of plastic blades attached to a sod-like base. A mixture of sand and rubber granules are spread on the surface to stabilise fibres, allow for bounce and enhance the overall play.
Replacing natural grass with this artificial alternative was called "a threat to bird conservation" last year in research examining 45 urban parks in Spain. 
Here, the cumulative loss of North Dublin green space used by the vulnerable Brent geese is a major concern for researchers. 
Around 6,000 of these Arctic natives winter in Dublin Bay, reliant on grassland for feeding. Stored winter energy is crucial fuel for their migration. This means that the availability of food in Dublin is essential to their survival and reproductive chances. 
But foraging opportunities are becoming more scarce in the capital. Our analysis shows multiple grasslands listed as important for the species are now partially or completely turned over to astro. 
This includes land used by football and GAA teams, as well as areas of council parks.
'Permanently lost' feeding grounds
One of the largest areas lost is at St Patrick's College in Drumcondra where Dublin City University (DCU) replaced a GAA pitch with an artificial pitch and training area.
It was obvious that Brent geese would be affected by this development from the outset.
DCU's own bird survey study found that two-thirds of the existing grassland areas used by Brent would be "permanently lost". A bird count of around 500 was recorded as part of the study, enough to qualify the campus as a site of major importance to Brent geese.
Despite BirdWatch Ireland objecting, planning was granted and the pitch built in September 2020 with some changes, including keeping a large grassland section in place.
This was done, a DCU spokesperson told Noteworthy, to accommodate Brent geese and "retain wintering bird usage of the campus".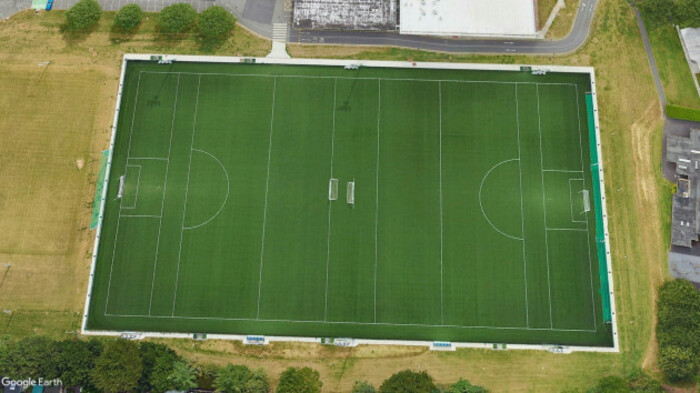 Source: Google Earth
On a 'monstrous scale'
It is not just ecologists who are concerned about the loss of urban green spaces.
Residents of Woodstown in South Dublin have started a campaign to push back against council plans to install a synthetic gaelic games pitch bang in the centre of Knocklyon Park.
The proposed pitch would take up over 2.5 acres, around half the open space in the park where grassland and meadows are of high ecological importance. This provides food and shelter for mammals, pollinators, bats and even birds of conservation concern.
Clare Hamilton, the spearhead behind the local campaign, told us that all this is "in jeopardy" due to the plans for the "monstrous scale" pitch.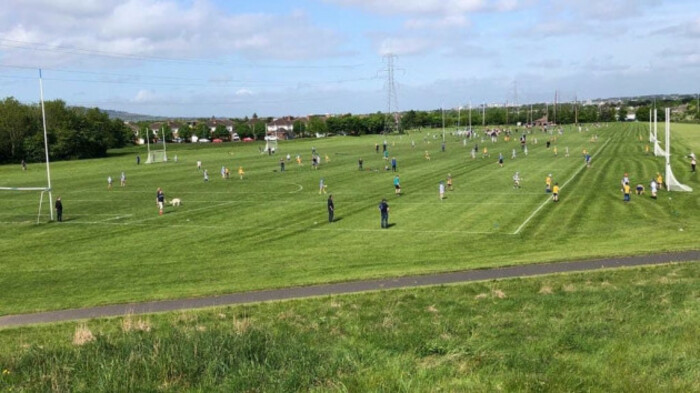 Source: Save Knocklyon Park
There is another well-known threat from synthetic pitches that Hamilton fears – microplastic pollution from the crumb rubber used on the pitch surfaces.
Crumb rubber is made from shredded car tyres and is used to enhance pitch performance. As much as 140 tonnes of this material is needed per pitch. 
The Woodstown Streamruns through the park into the Dodder and is just 65m away from where the pitch would be installed. "The amount of microplastics that will escape are just phenomenal," Hamilton said.
South Dublin County Council ruled out any potential major impact in its ecological report. A spokesperson told Noteworthy that environmental concerns raised in public submissions will be responded to in the Chief Executive's report. 
'You don't want it in the environment'
But Hamilton's concerns are not unfounded. New Environmental Protection Agency (EPA) research identified escape pathways for microplastics at surveyed pitches. 
The project's lead researcher, Dr Róisín Nash, a senior lecturer in aquatic ecology at Atlantic Technological University, told us they found crumb rubber on players' clothes, footwear and equipment. It was also found in rainwater run-off and drainage systems. 
While she "completely understands" the benefits of synthetic pitches, she said that there are metals and chemicals in the rubber that "you don't want to be in the environment". 
"Rubber beads are quite loose. So if you kick it, you're kicking it outside the pitch," said Nash. "We have wind in Ireland, we have rain that can wash it out… If they're pushing the snow off the pitch, it's going to put it out into the environment."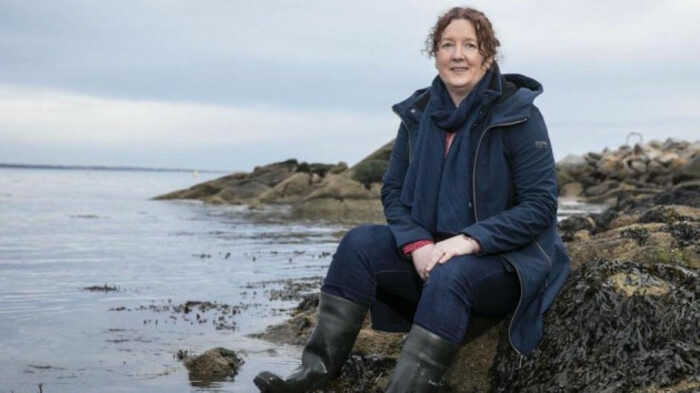 Source: Atlantic Technological University
The industry recognises an "obligation to minimise [environmental] impact", designing in mitigating measures and researching alternatives such as wood and cork chips, according to Alastair Cox, technical director at the EMEA Synthetic Turf Council (ESTA).
Cox, a visiting professor in sports surface innovation at Loughborough University, pointed to ESTA's work with the European Standards Committee to develop guidelines to minimise loss.
These include barriers around the pitch's edge to contain crumbs, grates and brushes for players to clean their boots and drainage systems to capture microplastics.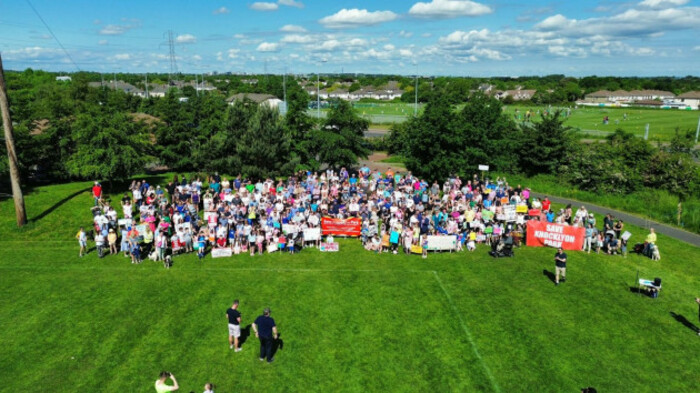 Source: Save Knocklyon Park
'Not convinced' 
Despite industry assurances, the EU is now set to ban the sale of the material used in astroturf pitches, allowing for an eight-year transition period.
But with the explosion of astroturf not only in the capital, but across Ireland, we are likely to lose more biodiverse ground before these rules are implemented. 
In the meantime, Hamilton said that Woodstown residents will continue to speak up against the Council's plans.
"The use of astro is being weighted as higher than the huge nature value that the park has, [even though] it's a biodiversity crisis," said Hamilton. 
"We are going to lose habitats that we've all pledged to protect and enhance." 

 Are astroturf pitches bad for our green spaces?

By Niall Sargent of Noteworthy
Noteworthy is the crowdfunded investigative journalism platform from The Journal. This investigation was proposed and funded by our readers alongside direct support from our investigative fund.

Vital habitat is lost across Ireland every day. Help us investigate the biodiversity crisis by funding our environment-related projects here>>