'On its knees': Future of island fishers on a knife edge
Islanders say authorities are failing to give support needed to save this traditional way of life.

"WITHOUT FISHING IN the past, we wouldn't be here today."
The social, economic and, above all else, cultural role that traditional fishing has played for the Irish offshore islands cannot be underestimated, according to Arranmore native Jerry Early.
The small-scale fisher fondly remembers "doing something around boats" from when he could first walk. But he has a great fear now that the islands "are losing all the traditions" as more and more island fishers are forced out of this way of life. 
As chair of the Irish Islands Marine Resource Organisation (IIMRO) that is at the coalface of the struggle to give island fishers a foothold, Early is trying to help the community as it navigates a sea change in the industry towards larger, industrial fleets. 
As part of our ISLAND NATION investigation about depopulation concerns on our islands, Early and his colleagues at IIMRO told us that they are coming up against a wall from authorities as they push for practical solutions to save their traditional way of life. 
"I have a huge problem with how it's been relegated to almost a pastime and it's a huge sense of frustration for us," Early stressed. "We can't allow that to be whittled down."
This series by Noteworthy, the crowdfunded community-led investigative platform from The Journal, has also examined housing, healthcare and infrastructural issues on islands. Read the full five-part series here.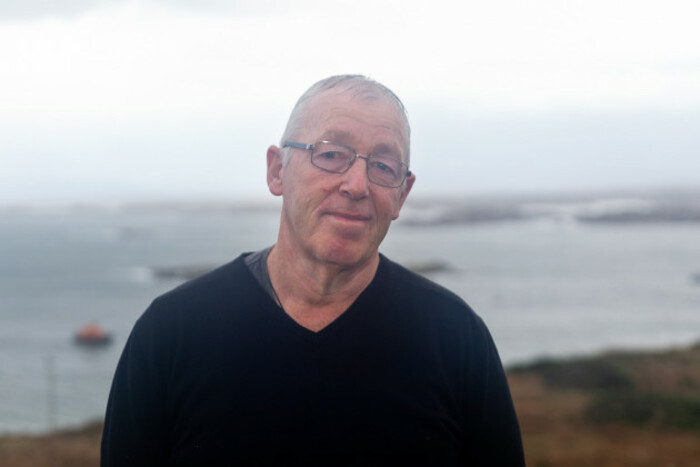 Source: Niall Sargent/Noteworthy
Belonging to the sea
Island fishers operate mainly from family-owned, small-scale vessels crewed by one to three islanders. The importance of this traditional model to our islands is borne out in the data, with island-registered vessels making up 5.5% of the entire national fleet.
"It goes to show how dependent they are on fishing," said Séamus Bonner, another Arranmore native and secretary of IIMRO. "On a lot of the islands it really would have been a big proportion of annual income," he said, and today also plays a role in attracting tourism. 
"The reason why people want to visit the islands is to see activity in the harbour and eat fresh seafood that's been caught locally," he said. 
Fishing on the islands still "has huge potential", Bonner said, but only if it is supported and managed by authorities, something that he feels just isn't happening right now. 
The reason, he said, is a "lack of interest from officials and politicians" in favour of a more industrial-scale fishing model that now pervades coastal waters and gets "most of the investment and infrastructure – whereas we're an afterthought".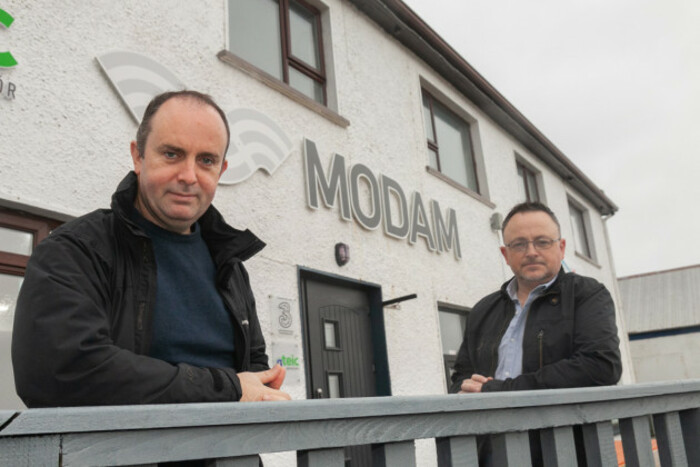 Source: Niall Sargent/Noteworthy
'Survive and prosper'
These concerns are recognised. For example, the Committee on the Marine found in 2018 that island fisheries are "under threat from, among other things, large industrial fleets". 
Yet, Bonner said that little has been done to date to follow through by authorities, with "very little support in terms of investment to be able to catch and land your fish locally and sell it locally". 
"Very basic things like water and power on piers or ice [storage] is lacking," he said, despite a clear message in the Common Fisheries Policy – a set of EU rules for the conservation of fish stocks – that offshore islands should be "supported in order to enable them to survive and prosper".
Islanders have been pushing for support for well over a decade now, with their input to a 2009 review of fisheries on offshore islands leading to a call for a special heritage licence to support the unique role of small-scale fishers. 
This idea was then included in a 2014 Sub-Committee on Fisheries report with recommendations to support island communities. The advantages of the special licence are clear – higher sales and wages, an increase in employment and the ability to market fish catches as 'niche' or premium products.
But new rules were not brought forward by the Government. It was only in 2017 that the issue was officially raised through a Sinn Fein Bill that called for a heritage licence to set aside a small quota pot for fishers using traditional fishing methods.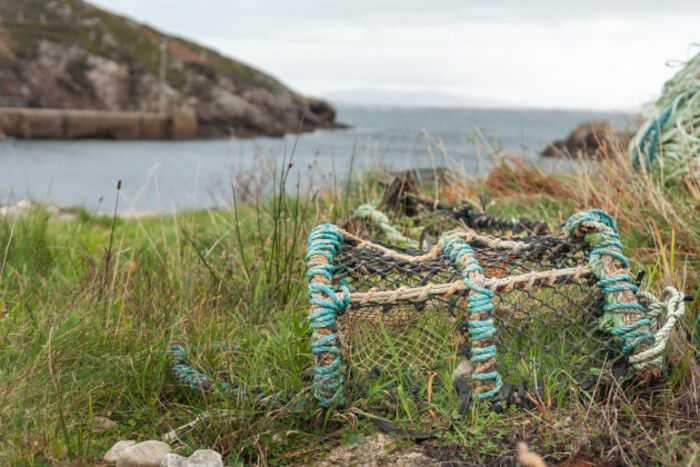 Source: Niall Sargent/Noteworthy
Equity for island fishers
According to Trinity College Dublin's Dr Ruth Brennan, a researcher specialised in small-scale fishing on the Irish islands, the licence is all about "equity in a system where there are huge inequities" and to make marine resources "accessible to more people who find it hardest to access [fishing] quotas". 
"There are barriers to accessing the valuable quota species for the smaller fishers and even more barriers for the smaller-scale island fishers because the system has been designed around the larger industrial fleet," she said. 
"You have to understand the island's struggle in relation to fisheries in the context of the much broader struggle of the islands to have a voice within Ireland."
Yet, despite the clear advantages of the proposed heritage licence, during debate on the Bill the then-Minister of State for the Marine said that legal advice found the Bill was not compatible with the Common Fisheries Policy and the Government did not support it. 
Yet, following detailed scrutiny of the Bill, it was highlighted that EU policy states quota allocation is entirely up to Member States. This is backed up by a response from the EU Commissioner on Fisheries in August 2018, stating that "it is up to Member States to decide whether they wish to put in place a [heritage] licensing system". 
The detailed scrutiny report states that "these positions are not aligned and the apparent conflict should be reconciled". Yet, the Bill was referred back to the Select Committee on the Marine as of February 2022 with no progress since. 
According to Bonner and Early, this long drawn-out process without conclusion is just one of many battles they have faced over the years, with many more recent ones also falling by the wayside.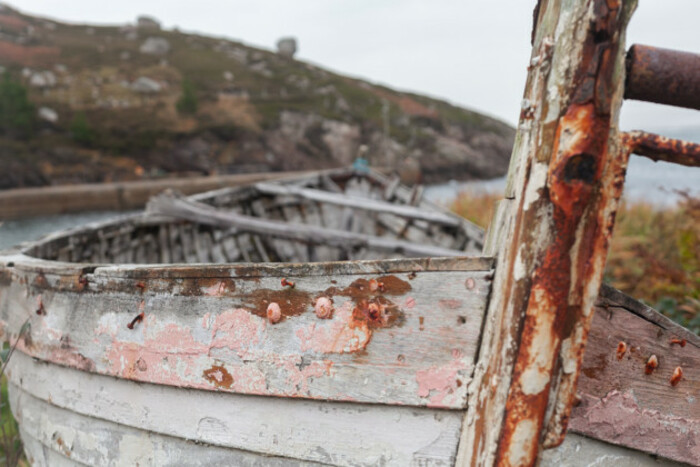 Source: Niall Sargent/Noteworthy
Fuel costs hitting hard
This includes the ongoing crisis in fuel costs, with prices going through the roof in the last year. Small scale fishers cannot access tax rebates available to larger fleets and fuel such as petrol used in small vessel engines fall outside of the relief schemes currently available.
IIMRO have sent several letters to the Minister for the Marine Charlie McConalogue warning that, unless a support scheme comes into play, many fishers will be forced out of business, with a detrimental effect on island communities. In one letter to the Minister last July, Bonner stressed that prices "are wiping out already small profit margins". 
In a statement, a Department spokesperson told us that the Minister is "very aware of the challenges".
The spokesperson said the Minister met representative groups multiple times in 2022 to provide a progress report on schemes to support the fishing fleet. This includes a €24 million voluntary scheme that allows vessel owners to tie-up their boats for up to two calendar months.
For Early, any true fisher would have an aversion to the idea of tying up, and points to, in his view, a "concerted effort to stop fishing" on the island. "We've come to the point where we've been hamstrung. Every step we take, they force us two steps back.
"We have been the only ones looking for avenues to find solutions to the problems, but our faces don't fit," Early said. "We are making rock solid recommendations and rock solid input for a fishing industry on its knees and yet, at no point are they taken seriously." 
Slipway in need of repair
Early pointed to the failure to date to repair the Polawaddy slipway on Arranmore. It suffered extensive damage after being battered by Storm Franklin last February, making it unusable for the seasonal fishers who normally launch from there. 
According to John McCafferty, the manager of the island's community co-operative, damage to the slipway "has a knock-on effect on so much work on the island" due to the importance of this particular slipway for fishers who have a key role in the community.
In February 2022, Deputy Thomas Pringle asked Minister McConalogue about the slipway and was told that repairs should be a priority. When asked by Pringle again in May 2022, the Minister said that Donegal County Council had not yet applied for funding at that time.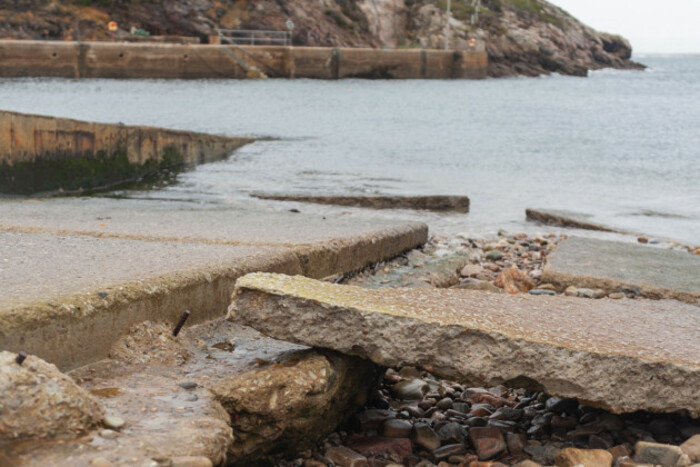 Source: Niall Sargent/Noteworthy
The Council has since applied for funding, and told us that repair work would be completed in April or May if funding is granted.
"Their decision that it will be done in 2023 affects so much on the island," according to McCafferty. "It's a constant fight, and unless that fight was there from the islanders, very little would be pushed on and that's across the board – in education, health, housing, absolutely everything."
Jerry Early is certainly not giving up the ghost, however. "We're resolute even though the slip is in bits… We're going to keep going. I'm gonna keep banging the drum.
"At this point, I'm going down with guns blazing because I don't give a toss anymore… We have to continue the fight to get back to where we should be."
—

INVESTIGATING ISLAND DEPOPULATION - FULL SERIES OUT NOW
Have a listen to The Explainer x Noteworthy podcast on our findings 

—
By Niall Sargent of Noteworthy
This article was developed with the support of Journalismfund.eu as part of a cross-border project with Jamie Mann for The Ferret in Scotland and Giacomo Zandonini for IrpiMedia in Italy.
Please support our work by submitting an idea, helping to fund a project or setting up a monthly contribution to our investigative fund HERE>>