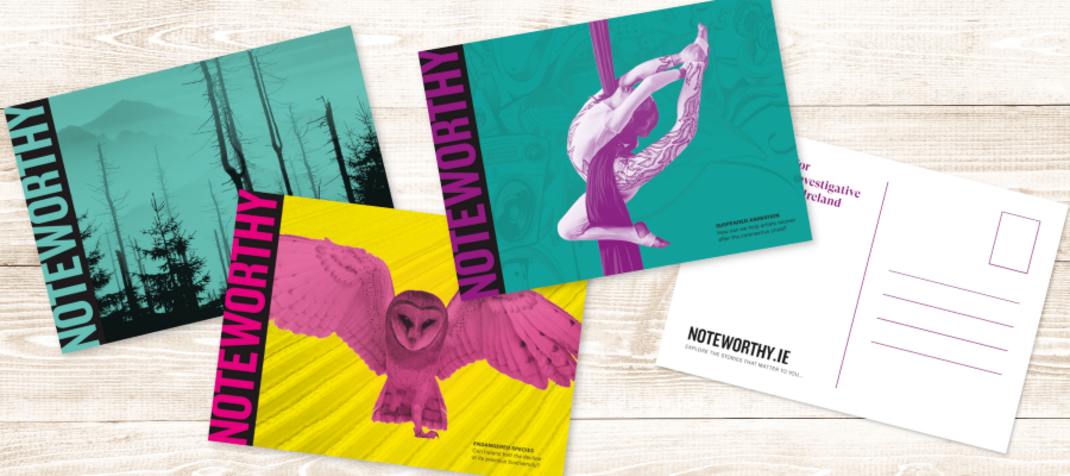 POSTCARDS OFFER: Give the gift of investigative journalism
16 Backers raised €453 of €5000
Have you enjoyed our award-winning reporting? This is your chance to share the gift of investigative journalism - and receive a set of limited edition Noteworthy postcards.
We explore the stories that matter to you!
Investigative journalism is time-consuming and expensive, and some stories can only be told properly with investment of time and money. Our investigations are crowdfunded so we rely on the support of generous readers like you.
Your contribution to Noteworthy will help our team hold the powerful to account and give a voice to those who are often forgotten.
BUY A GIFT
To purchase a gift, simply click 'Fund This Proposal' above and add your desired contribution.
We will immediately send an email to your gift recipient to let them know a contribution was made on their behalf.
FREE POSTCARDS: As a bonus, you will get a set of limited edition Noteworthy postcards posted to you (to give as a gift) or if it is handier for you, we can send them directly to a recipient of your choice.
Once you contribute, you will receive an email from us asking for details so we can let your friend know you have made a contribution on their behalf and get the Noteworthy postcards to their destination.

WHAT YOUR GIFT FUNDS
Your gift contribution helps us with our ongoing work by enabling us to:
Dive deeper into investigations and follow leads outside the scope of the initial plan and budget
Spend more time hearing what you want us to investigate
Add multimedia to ongoing investigations such as videos and graphs
Provide additional editorial and legal support to our work
OUR LATEST WORK
Our team has been busy over the past few months, thanks to your support. Our latest investigations revealed:
If you want to know how your contribution is used, or anything else about how Noteworthy works, you can find out more here.
If you have any questions, give us a shout at [email protected]
16 Backers raised €453 of €5000
Other Proposals